If you are soon to be one of the tens of millions of people who visit this airport every single year, then you might be wondering about the kind of food in SFO. That is certainly a valid source of curiosity, and one that we are here to satisfy.
The type of food that you may encounter at the airport varies immensely, and it is up to you to find the type of food and restaurant style that you like. The good news is, however, that no matter what kind of food you like, you are sure to find yourself a few options! The large size of the airport means that it can accommodate for more restaurants and cafes!
If you are more health conscious, vegan/vegetarian, or are following a diet, then you do not have to look far and wide, because the SFO has way more than just fast-food chains. You are also accommodated for if you have religious dietary restrictions.

And it gets even better, because the restaurants in SFO Airport are not the only places to grab food at. You can grab a quick bite at a café, have a quick run to the nearest convenience store for a flight snack or pre-packaged food, or even indulge in the premium buffets offered at the quality lounges across the airport.
San Francisco International Airport restaurants list
Since it might be a little overwhelming attempting to quickly pick a restaurant on the spot from the plethora of options, it is a good idea to get to know what kind of restaurants you may encounter and where. This helps you plan better for your trip across the airport, and helps save valuable time that is better spent enjoying the services at the airport.
The following is a non-comprehensive, yet nonetheless useful, list of the restaurants in SFO Airport:
Terminal 1 SFO food:
Farmerbrown
Goldilocks Filipino Cuisine
Drake's Flyaway
Dogpatch
Little Skillet
Terminal 2 SFO food: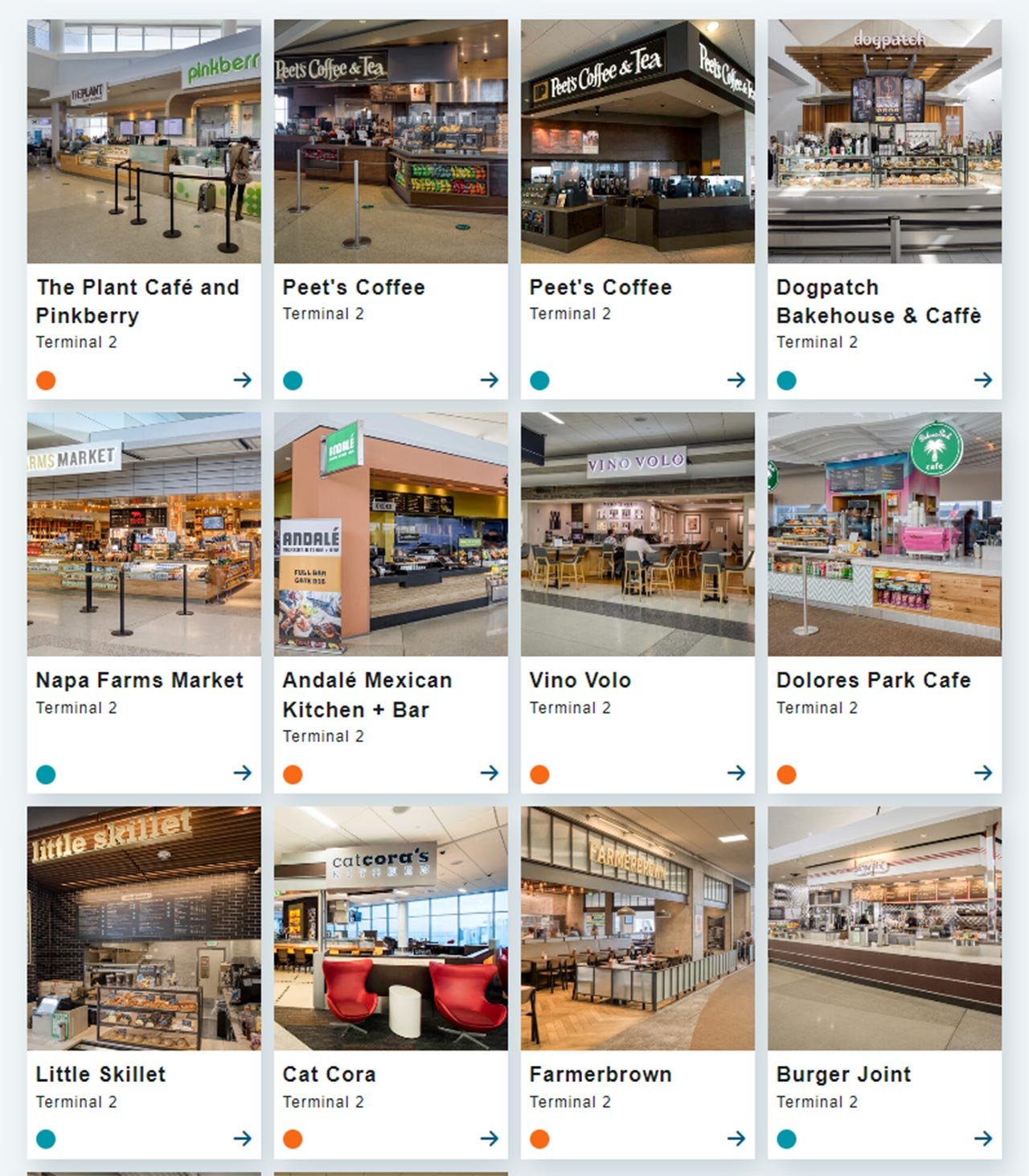 The Plant Café Organic
Cat Cora's Kitchen
Wakaba
Sweet Maple
Terminal 3 SFO food:
Union Street Gastropub
SF Uncork'd
Urban Tortilla
Pie Five Pizza
Ladle & Leaf
Amoura Fresh Mediterranean
International Terminal SFO food:
Tomokazu
Koi Palace Express
MumFresh
Roasting Plant Coffee
Samovar Tea Lounge
24th & Mission Taco House
If you find that your favorite restaurant is unfortunately not at your designated terminal, then worry not, the AirTrain is here for the rescue. As you probably know by now, the AirTrain is a commuting service that transports people from one location to another in the airport. It operates on a non-stop basis, and it is even completely free.
Food options at the lounges
The lounges are where one goes to relax, get some rest, perhaps even freshen up with a shower, maybe get some work done, and most famously, get premium food at the astounding buffets!
The buffets in the lounges generally offer hot meals throughout the day, with desserts, snacks, and complementary drinks. Some lounges may also offer the option of packaged snacks that you can take with you on your flight.
The type of food offered at every lounge differs, as do the amenities and services provided by each. However, it is never a bad idea to get yourself a pass, as you simply cannot be disappointed with the calm and relaxing mood that a lounge can offer, as opposed to the chaos of the airport.
Additional information
If you are interested in a more comprehensive list of all of the restaurants and cafes at the airport, along with some additional details such as their exact locations, contact information, opening hours, and so on, then head on over to this page.
Now that your meals are well planned for, and you have more time to spare at your upcoming journey through the SFO, then use that time wisely and wander around the many shops and stores. You may even be surprised to find your favorite store at one of the terminals!