When it comes to transportation to and from the airport, the options are plenty and quite varied! They range from public transportation buses to personal limousines. The visitor gets to choose whichever mode of transportation best fits their needs, their budget, and their convenience.
One of such options, however, consistently stands out as a fan favorite. It may not be the most budget-friendly option, but most people think it is worth the extra bucks. That option is renting a car. Renting your own car gives you a sense of freedom and flexibility along your trip that is not offered by any other mode of transportation. You can head to your many destinations at your own convenience every time.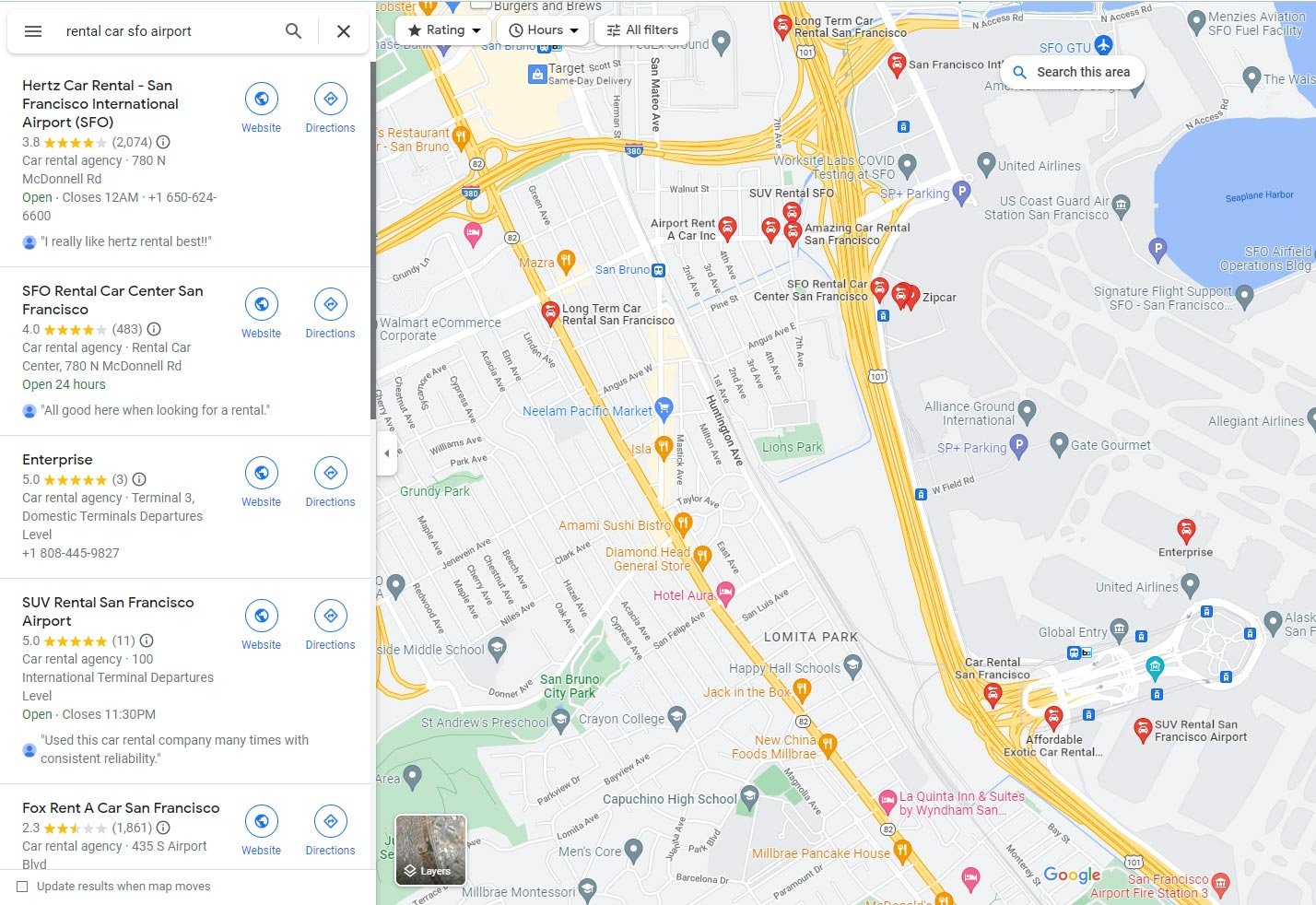 This option is also becoming a more affordable one, with more and more companies introducing several affordable vehicles for customers to choose from.
SFO Car Rental Center
The car rental companies at San Francisco Airport are huddled together at the SFO Car Rental Center.
This center houses the companies and makes it easier for passengers to access all the companies in a convenient and easy manner. The location can be reached through the SFO Car Rental shuttle. The inter-terminal transportation options at the airport are many, and they transport you to every corner of the terminals. The Car Rental Center is just another stop, so you can easily hop on and hop off any shuttle service of your liking as you go to and from the SFO terminals and the SFO Car Rental Center.
San Francisco Airport car rental agencies
You have lots of options of agencies to choose from!
The San Francisco Airport rental car companies are:
Alamo – contact number: +1 844-370-8302 – website: www.alamo.com
Avis – +1 650-877-6780 – www.avis.com
Budget – +1 650-877-0998 – www.budget.com
Dollar – +1 866-434-2226 – www.dollar.com
Enterprise – +1 833-635-0431 – www.enterprise.com
Fox – +1 415-917-2713 – www.foxrentacar.com
Hertz – +1 650-624-6600 – www.hertz.com
National – +1 844-370-8301 – www.nationalcar.com
Sixt – +1 888-749-8227 – www.sixt.com
Thrifty – +1 877-283-0898 – www.thrifty.com
Most of these companies have a 24/7 customer service line that you can call at any time for your inquiries. And to get a better idea of their services and available vehicles, their respective websites are a great platform to navigate.
Other than the car rental agencies that are located within the SFO Car Rental Center, there are companies that operate off-ground but cater to the passengers of the airport. These companies offer free shuttle services between the airport and their locations. There are also some other agencies on the premises of the airport that are not strictly in the center, and they include:
Airport Van Rental – +1 650 952 5543
NU Car Rentals – +1 800.55.NUCAR
Payless Car Rental – +1 650 548 5161
Silvercar – +1 650 273 7110
Most of the companies listed here (in the center, outside the center, and off-ground), offer accessible vehicles to anyone with a disability. You can inform the company of your specific needs ahead of time, and you can be sure that an appropriate vehicle can be waiting for you!