The SFO Airport has made it its mission to deliver its visitors with the smoothest, most convenient, and certainly the most fun airport experience possible. And for that reason, the services offered at the airport are many, and they vary greatly. From art exhibitions and kids play areas, to work stations and nursing rooms, the SFO has thought of it all.
San Francisco Airport services
The SFO also subscribes to the ideology of making the establishment as accessible as possible for those of us with special needs. Some of the necessary services that are meant to make your trip a safe and convenient one include:
Animal relief zones (accessible for all pets, not only service pets)
Self-service mail
Nursing rooms
Companion care restroom facilities
Medical clinics
Wheelchair rental stations
Equipped work stations
Storage facilities
Free and constant access to high-speed Wi-Fi throughout the airport
Baggage assistance
'Freshen Up' – a hotel-style service where you can rent a private room to take a nap and relax and have access shower facilities
Water filling stations
Cell phone rentals
Currency exchange offices
ATMs
Harvey Milk Terminal 1 seriveces
Terminal 2
Terminal 3 service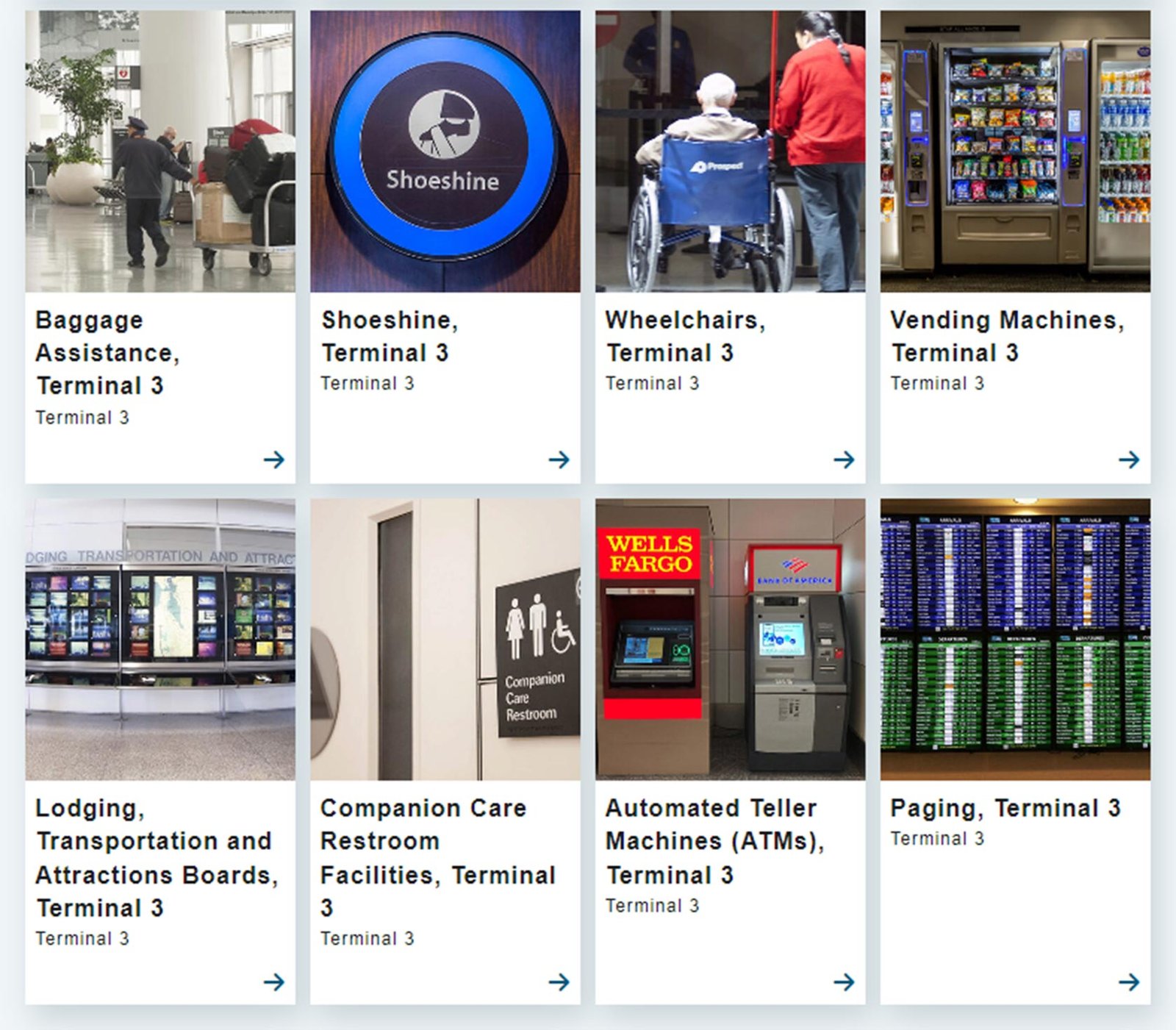 Please note that smoking is not permissible inside the terminals of the SFO Airport. However, a designated SFO smoking area is located outside of each terminal.
Further, it may come in handy to know that the San Francisco Airport lost and found number is +1 650 821 7014.
SFO Leisure activities
If you're looking for something a little more fun to do, the first thing that comes to mind is the many lounges across the airport. But that's not all that the SFO has to offer.
Consider treating yourself to a yoga session followed by a spa session, for utmost relaxation before the flight.
When you're done, wander around the many stores and finish some last-minute shopping! If shopping isn't your thing, go visit the Berman Reflection Room for some much-needed peace and quiet. You also don't want to miss out on the opportunity to view SFO Museum.
If after all that you find yourself hungry, your options are plentiful! There is a restaurant/café to satisfy every craving. From sweet desserts, to hot savory meals, and even international cuisine and fine dining experiences, you're bound to find it all at the SFO.