The options of transportation from SFO and vice versa are loads! There is a suitable option for everyone.
In terms of public transportation, the main option is taking the bus. Buses pass by the SFO on a constant basis. There are also some private bus companies that offer transportation to specific destinations that perhaps public buses may not cover. These private buses also line up at the SFO ready to pick up passengers!
Other forms of buses are the shuttle buses. These shuttle buses can usually be offered by hotels to transport their customers directly from the airport to the hotel. Call your hotel ahead of time and inquire about the availability of such an option.
Another public transportation option is the popular BART. This train service even has its own platform at the airport that offers San Francisco Airport transport to city.
If you prefer something a little more private, you can always take a taxi instead. Taxi companies that operate at the airport offer the options of pre-booking and on-spot booking. You can choose your vehicle of choice, and they range from limousines to mini vans, and everything in between.
Similarly, rideshare applications are always available, such as Uber and Lyft. As long as you have your preferred company's application downloaded on your phone, they can pick you up from the SFO.
For even more privacy and convenience, one option has been a fan favorite for a while now! And that option is renting a car.
Car rental agencies at the SFO have even been given their own center, the Rental Car Center, which makes it more convenient for customers to seek them. These companies all offer a wide variety of affordable cars, making this option even more attractive. They also offer wheelchair accessible vehicles. To be absolutely certain of such an availability, it is best to call ahead of time and make sure that your car is ready for you upon your arrival!
San Francisco Airport transport to city can be through any of the aforementioned options. Simply choose the option of your liking, and you will be in downtown San Fran in no time!
Off-site transportation SFO
Not all the transportation options are directly on-site. Some are not directly connected to the airport, such as the Caltrain. The Caltrain is a common option amongst the residents of the city of San Francisco, and you can get to it using the BART. In this way, the SFO connects its passengers to the Caltrain
Another off-site transportation SFO option is the San Francisco Bay Ferry. This ferry can be reached through the SFO's ferry bus connector.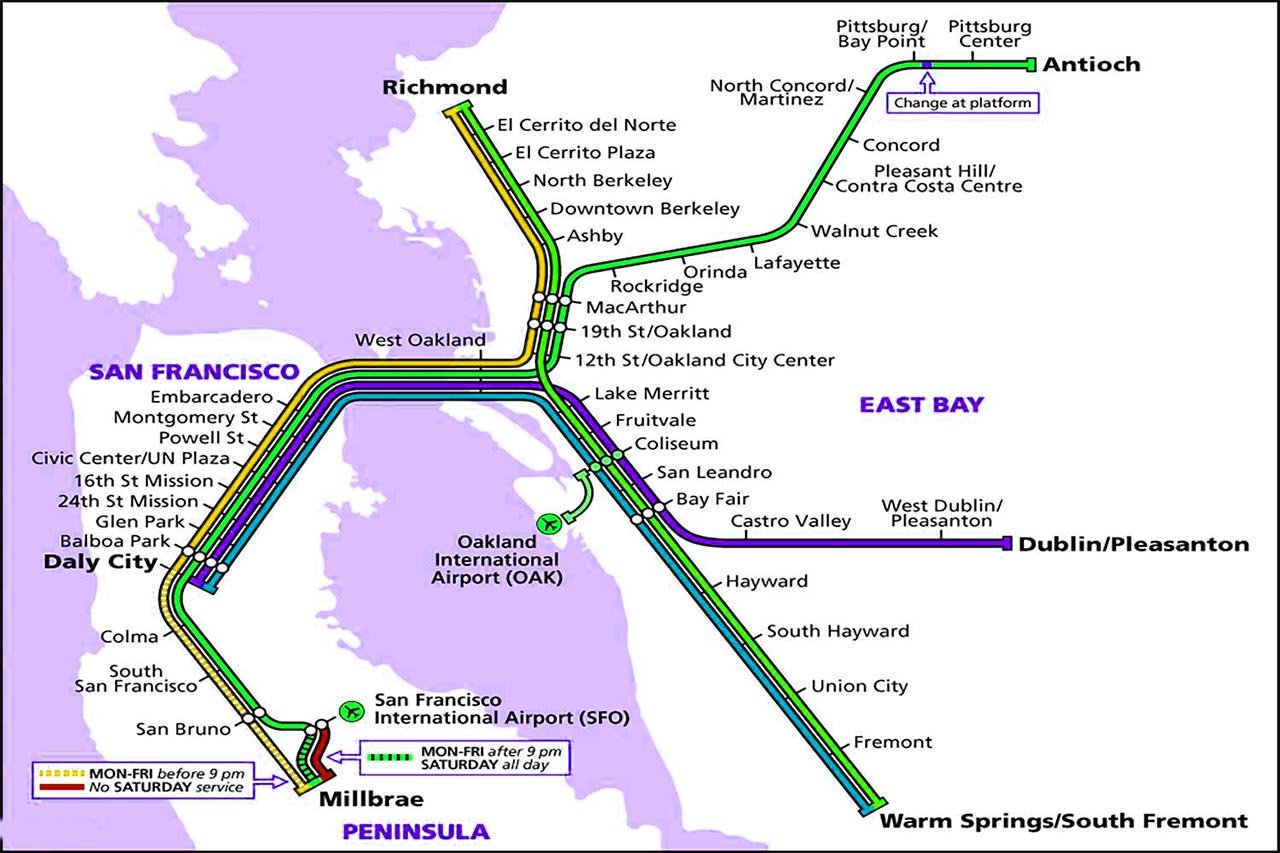 Inter-terminal SFO transportation options
Within the airport itself, passengers can enjoy the AirTrain services. This shuttle transfers passengers across multiple sites at every corner of the airport. It is especially convenient for those wanting to head to a different terminal. The service is non-stop, free of charge, and prompt, making sure that you are never late to your flight!