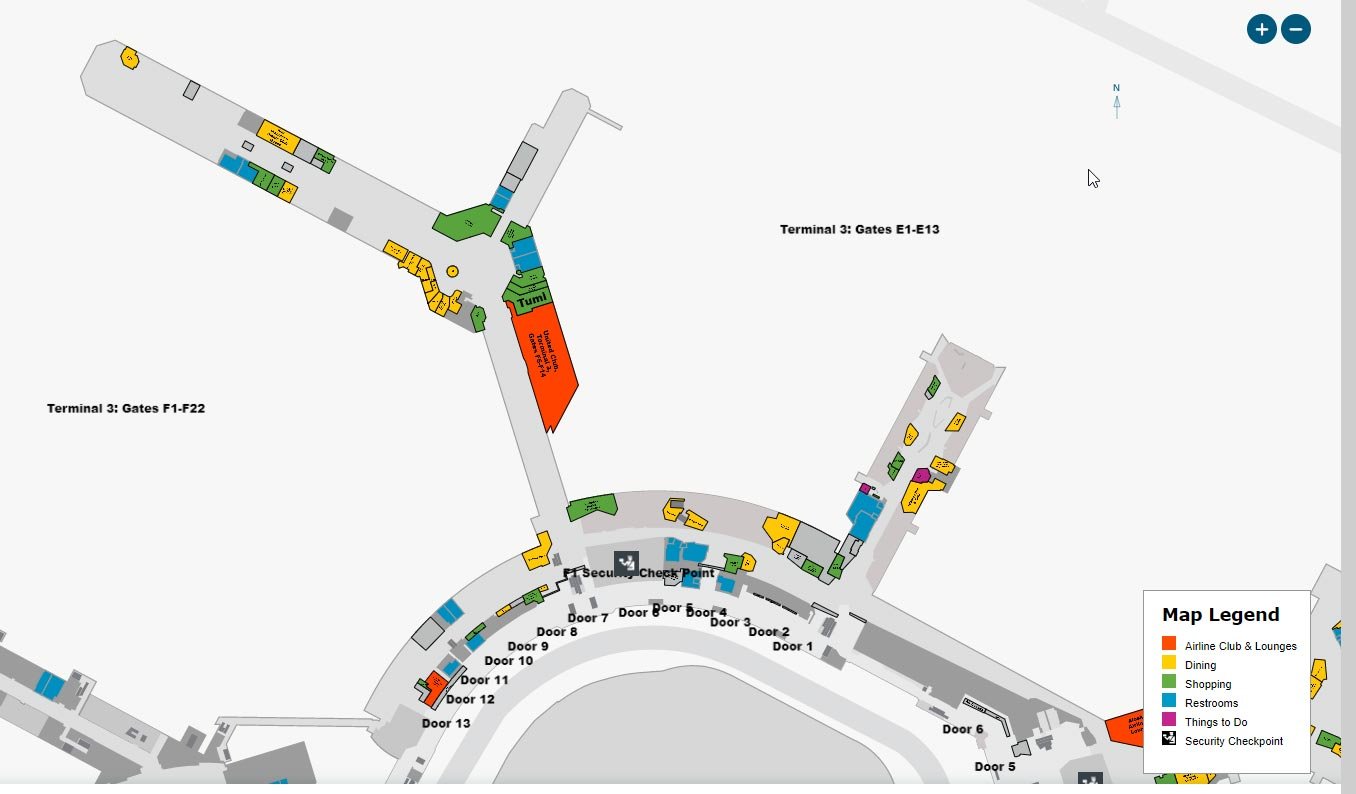 Terminal 3 at the SFO is deemed the green terminal due to its eco-friendly structure that is entirely powered by its solar roof. This terminal is closely related to the next one, the International Terminal, as they share some gates together. Thus, it is always best to check your flight number, gate, and terminal ahead of time.
The gates that you can expect to find at the terminal are:
E1 – E13
F1 – F22
To understand the structure of this terminal, and relating terminals, take a look at the SFO Airport Terminal 3 map here.
What airlines are in SFO Terminal 3?
Terminal 3 offers a variety of flights to various destinations, within and outside the country. These destinations are mainly operated by the following airlines:
AVIANCA Airlines
GOL
TAP AIR Portugal
United Airlines
Lounge options at the airport Terminal 3

Terminal 3 at SFO is home to many lounges that you can choose from. Remember that a lounge can mainly be accessed through purchasing a first-class or a business-class ticket. Although some lounges offer the option to purchase passes. They many also grant passes to exclusive members of certain card holders.
The Centurian Lounge gives its visitors a relaxed environment where they can freshen up with a shower before their flight, grab a hot meal at the fancy buffet, and enjoy the complementary cocktails at the bar.
The United Club is mainly for United Airlines customers and it offers its members the chance to enjoy a cozy environment with snacks and drinks, while they sit around the couches and enjoy the magazines and the views.
The United Airlines United Club is yet another lounge offered by United Airlines with similar amenities to the former lounge and more!
The San Francisco Giants Clubhouse is another option for you to choose from. The premium food and drinks that are offered here cannot be missed!

The Yankee Pier offers the same wonderful amenities as the previous lounges. Visitors can enjoy prepackaged snacks to take along the flight with them!
Services at Terminal 3
Other than the plethora of options of lounges to choose from, there's even more restaurants and cafes! At the Terminal 3 at SFO, there's something for everybody. Whether you have dietary restrictions due to health, religious, or moral reasons, or you're just looking for a quick bite at a fast-food chain, everyone has options.
To name some of the cafés and restaurants in the terminal, you have:
Sankaku
Mission Bar & Grill
SF Uncork'd
Urban Tortilla
Burger King
Starbucks
Klein's Deli
Pie Five Pizza
Dogpatch Bakehouse & Café
Ladle and Leaf
Bun Mee
Pinkberry
Amoura Fresh Mediterranean
Yo-Kai Express
As you can see, the cuisines are varied to accommodate every diverse palate that can pass through the terminal.
For more information about the available food options at the terminal, in great detail that includes exact location and opening hours, head on over to this page.