As the name implies, this terminal deals almost exclusively with international flights. This rule is not written in stone, however, so you might want to check your gate number and identify your designated terminal before your flight.
The gate International Terminal at SFO mainly concerns boarding areas A and G, and they include:
To understand the outline of this intricate terminal, check out the map here.
Airlines at the International Terminal
The airlines that operate at this terminal vary greatly, and they include:
AeroMexico
Air France
Air India
Air New Zealand
Asiana Airlines
British Airways
China Airlines
Copa Airlines
Emirates Airlines
Frontier Airlines
Hawaiian Airlines
JetBlue Airways
Vietnam Airlines
Virgin Atlantic
The Services at the SFO International Terminal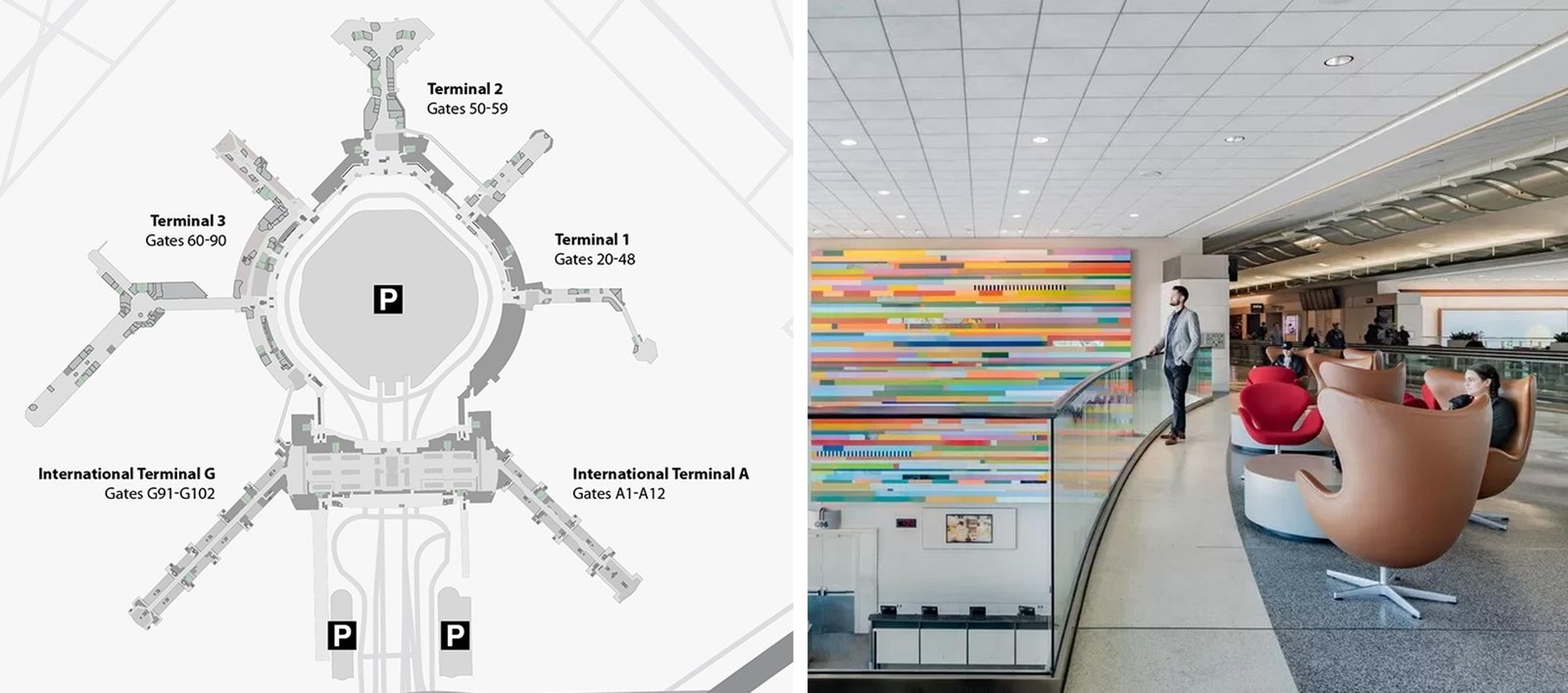 The SFO International Terminal has unique and exciting facilities that are not found in any other terminal! They range from art exhibitions to cellphone rental zones, and even a hotel!
The airport's hotel is a cozy private room that one can rent per hour where you can enjoy the privacy and comfort of a bed and some extra amenities. The 'Freshen Up' option is perfect for those long waits between connecting flights and the unexpected delays. The hotel also offers an additional paid option of accessing showers! It simply doesn't get better than that!
As this is an international terminal, exchange offices are definitely waiting for you there. Additionally, there are ATMs, information centers, storage units, and mailboxes.
For even more convenient services, a pet relief zone, a nursery, and even a medical clinic are available throughout the International Terminal.
If you're looking to spend those long waits doing something fun, wander off and look for the airport's museum, the museum library, and the art exhibitions like the San Francisco Arts Commission.
Lounges at the International Terminal
If you thought that this terminal couldn't possibly get any better, then think again! Besides the many varied options of restaurants and cafes that can be found at every corner of the terminal, it also has the most number of lounges at the SFO!
The lounges that can be found at the International Terminal are:
Air France – KLM Lounge
British Airways Lounge
Cathay Pacific First & Business Class Lounge
China Airlines' Dynasty Lounge
The Emirates Lounge
Japan Airlines Sakura Lounge
Philippine Airlines Mabuhay Lounge
United Airlines United Club
United Polaris Lounge
Virgin Atlantic Club House
If you find yourself at the terminal, make sure to pre-purchase a pass to your favorite lounge so you don't miss out!